Posts for: March, 2018
By Great Lakes Family Dentistry
March 16, 2018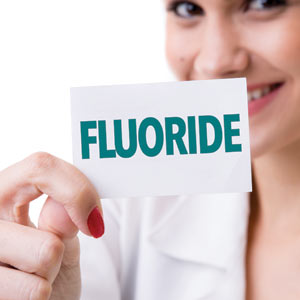 Fluoride is an important weapon in the fight against tooth decay. Fluoride consumption and other applications are especially beneficial during children's dental development for building strong teeth long-term.
But the truism "too much of a good thing" could aptly apply to fluoride. If a child consumes too much fluoride over an extended period of time, it could cause a condition called enamel fluorosis in which the enamel surface develops mottled or streaked staining. It's not harmful to the tooth's health, but it can greatly diminish a person's smile appearance.
To avoid fluorosis, it's important with the help of your dentist to know and regulate as much as possible the amount of fluoride your child receives. Here are 3 fluoride sources you should manage.
Toothpaste. Many manufacturers add fluoride to their toothpaste formula, usually an important way to receive this tooth-strengthening chemical. But younger children tend to swallow more toothpaste than older children or adults. Because the chemical builds up in the body over time, swallowing toothpaste every day could potentially elevate your child's fluoride levels. To avoid this, just use a "smear" of toothpaste on the brush for children under age 2, and a pea-sized amount for older children.
Your water system. About three-quarters of all public water utilities add fluoride to their water as an added measure for tooth decay prevention. The amount can vary from system to system, although the maximum amount recommended by the U.S. Government is 0.70 parts per million (PPM). You can ask your local water system how much fluoride, if any, is present or they add to your drinking water.
Bottled water. Any type of bottled beverage (water, juices, sodas, etc.) could contain various levels of fluoride. Unfortunately there are no labeling requirements regarding its presence, so the most prudent course is to carefully manage the beverages your child drinks, or stay with bottled water marked "de-ionized," "purified," "demineralized" or "distilled," which typically have lower fluoride levels. For babies feeding on milk, you can use the aforementioned bottled waters to mix powder, use ready-to-feed formula (also low in fluoride) or breast-feed.
If you would like more information on fluoride and your baby, please contact us or schedule an appointment for a consultation. You can also learn more about this topic by reading the Dear Doctor magazine article "Tooth Development and Infant Formula."
By Great Lakes Family Dentistry
March 01, 2018
The red, scaly rash suddenly appearing on your face doesn't cause you much physical discomfort, but it's still embarrassing. And to make matters worse treating it as you would other skin ailments seems to make it worse.
Your ailment might be a particular skin condition known as peri-oral dermatitis. Although its overall occurrence is fairly low (1% or less of the population worldwide) it seems to be more prevalent in industrialized countries like the United States, predominantly among women ages 20-45.
Peri-oral dermatitis can appear on the skin as a rash of small red bumps, pimples or blisters. You usually don't feel anything but some patients can have occasional stinging, itching or burning sensations. It's often misidentified as other types of skin rashes, which can be an issue when it comes to treatment.
Steroid-based ointments that work well with other skin ailments could have the opposite effect with peri-oral dermatitis. If you're using that kind of cream out of your medicine cabinet, your rash may look better initially because the steroid constricts the tiny blood vessels in the skin. But the reduction in redness won't last as the steroid tends to suppress the skin's natural healing capacity with continued use.
The best treatment for peri-oral dermatitis is to first stop using any topical steroid ointments, including other-the-counter hydrocortisone, and any other medications, lotions or creams on it. Instead, wash your skin with a mild soap. Although the rash may flare up initially, it should begin to subside after a few days.
A physician can further treat it with antibiotic lotions typically containing Clindamycin or Metronidazole, or a non-prescription, anti-itch lotion for a less severe case. For many this clears up the condition long-term, but there's always the possibility of relapse. A repeat of this treatment is usually effective.
Tell your dentist if you have recurring bouts of a rash that match these descriptions. More than likely you'll be referred to a dermatologist for treatment. With the right attention—and avoiding the wrong treatment ointment—you'll be able to say goodbye to this annoying and embarrassing rash.
If you would like more information on peri-oral dermatitis, please contact us or schedule an appointment for a consultation.